Ninguno de los 30 nuevos fármacos aprobados para diabetes en la última década mejora la diabetes. Y algunos son dañinos. El resto los efectos secundarios a largo plazo una incógnita. E incluso los que llevan más tiempo como insulina o metformina no tienen gran evidencia científica en diabetes tipo 2.
http://www.medpagetoday.com/Cardiology/Diabetes/49227
In 1997, a group of experts convened by the American Diabetes Association changed the definition of type 2 diabetes, lowering the blood sugar threshold, and instantly as many as 1.9 million more Americans had the condition.

The same pattern played out in 2003, in an even bigger way, when the association changed the definition of a condition known as pre-diabetes and -- overnight -- 25 million more Americans were affected.

But from 2004 to 2013, none of the 30 new diabetes drugs that came on the market were proven to improve key outcomes, such as reducing heart attacks or strokes, blindness, or other complications of the disease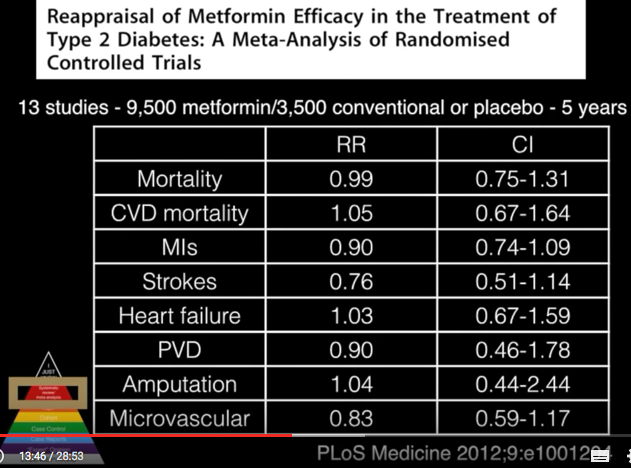 La medicina transmite al paciente una falsa seguridad terapéutica, porque piensa que ya está siendo tratado por el fármaco, dejando de buscar una solución efectiva que solo puede ser su estilo de vida. Se fomentan pacientes pasivos y dependientes del criterio médico y farmacéutico, alejando a la gente de tomar las riendas de su salud con terapias más efectivas que las médicas y farmacéuticas para mejorar la sensibilidad insulínica, la glucosa, el tono caridovascular y la mortalidad por cualquier causa, fundamentalmente nutricion, deporte, relajacion (eje HPA y tono simpático) y aire libre (hay más infartos los días de mayor polución).