100 años de "la guerra contra las drogas". Datos y reflexiones.
Publicación durísima de un médico
"La guerra contra las drogas es un fraude. Los médicos hemos sido pieza central en el engaño, hemos fallado en nuestro deber moral y en nuestra responsabilidad social. Las drogas ilegales son mucho menos peligrosas que los fármacos".
When examined carefully, it becomes apparent that the war on drugs is a monumental fraud. The medical profession is in a pivotal position to ex-
pose the deception, and we have neglected our moral and social responsibility to exercise this role
outlawed narcotics are less dangerous than their legal counterparts, a fact of which the public is largely unaware.
if the outlawed drugs were to be used legally, everyone would benefit, except for criminals, the lawyers, and the bureaucracies of the Drug Enforcement Administration (DEA), the Federal Bureau of Investigation (FBI), and the prison system.
http://www.ncbi.nlm.nih.gov/pubmed/17387963
La guerra contra las drogas no ha bajado el número de adictos, no ha bajado el número de crímenes, (ha aumentado), el gasto del gobierno en este asunto ha aumentado groseramente, el respeto por la ley ha disminuido, las cárceles aumentan y la población reclusa aumenta. Los cárteles de las drogas han sido creados exclusivamente por la ilegalización, y a esto debemos cientos de miles de muertos, junto con millones de episodios de tiroteos, raptos, y violencia de toda clase. Insisto: producido por la ilegalización.
Población reclusa: un artefacto artificial creado por la ilegalización que daña más la salud que las drogas, no solo al recluso, sino a sus hijos, su esposa, su vecindario, etc.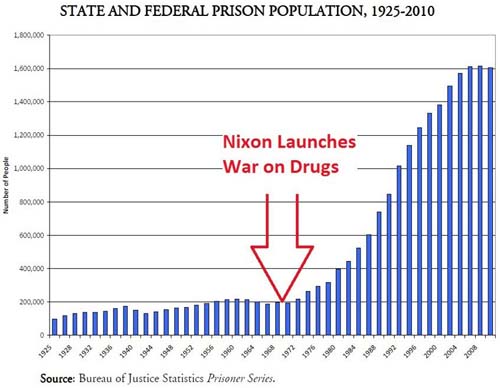 Trying to wage the war on drugs has costs the U.S. $1 trillion, with another $51 billion adding to the tally each year. This has resulted in 45 million drug related arrests, with the U.S. now jailing 2.3 million prisoners -- more people than anyone else on the planet. What has all this accomplished? "Rates of addiction remain unchanged, overdose deaths are at an all-time high and drugs cost less than ever before."
http://www.huffingtonpost.com/richard-b ... 39312.html
Son muy antiguas las voces contra la guerra de las drogas, y su presumible fracaso para la sociedad (políticos, burócratas, agentes de la ley, cárceles y empresas que se benefician de mano de obra gratis en las cárceles si han tenido un gran éxito). Ya en 1925 se dijo que era una locura
H. L. Mencken, 1925.

"Prohibition has not only failed in its promises but actually created additional serious and disturbing social problems throughout society. There is not less drunkenness in the Republic but more. There is not less crime, but more. ... The cost of government is not smaller, but vastly greater. Respect for law has not increased, but diminished."
Las drogas mueven un billón de dólares al año
http://edition.cnn.com/2012/12/06/opini ... -on-drugs/
El gasto en USA es de billón y medio. No ha logrado impacto en el número de adictos, pero ha saqueado las cuentas públicas de los ciudadanos para crear instituciones con presupuestos multimillonarios y un poder político brutal.
Ese gasto equivale a pagar los salarios medios de toda la población activa de unos 10 paises como España.